How to transfer WingX to my new phone?


This information is contained in our May 2008 newsletter. Please click here.



Does WingX run on the new Windows Mobile 5.0, 6.0 and 6.1 devices?


Yes. WingX also runs on Pocket PCs running Pocket PC 2003, or Pocket PC 2003 (Second Edition).

Note regarding the Palm 700w and the newer Palm 700wx: The Palm 700w ships with only 32MB of RAM of which less than 10MB is usable after the OS has booted. Almost every other WM 5.0 device has at least 64MB RAM. While WingX is very miserly with its memory usage and extremely efficient, we encourage users not to buy any Pocket PC with only 32MB. Take a look at the newer Palm 700wx.



What devices do you recommend?


See our ever-expanding list - click here.

Smartphone (non-touch screen) options are the Motorola Q, Cingular Blackjack, and T-Mobile Dash. These are smaller phones, but they work very very nicely. You can see some screen shots here.



Do you have a Referral Program?


Yes, please take full advantage of it - click here.


What information do you require to add a new aircraft model?


First, simply send an email to support@hiltonsoftware.com with the model (e.g. PA-28-181), the year, and preferably an N-number. Usually, this is enough for us to add that aircraft model. However, in some some cases, we require additional information from you. This is what we would require:
Maximum Ramp weight (if any)
Maximum Take Off weight
Maximum Landing weight
Maximum Zero Fuel weight (if any)
Seats:

Arms
Description; e.g. Front, Center, Rear
Configuration; e.g. 2, 2, 1

Fuel Tanks

Arm of each fuel tank
Description; e.g. Main, Aux
Configuration; e.g. one main tank in each wing, one aux tank in the fuselage
Each tank's capacity
Each tank's usable
Type of fuel; e.g. 100LL
Unit of fuel; e.g. gallons or pounds
Markings; e.g. Full is 50 gallons, tab at 35 gallons

Baggage

Arms
Description; e.g. Front, Rear
Maximums; e.g. max of 200 pounds in the front baggage, max of 100 pounds in the rear baggage

W&B Envelopes

Data points for normal, utility, acrobatic and any other envelopes; e.g. 2400@106.6, 3250@106.6, 3900@110.6, 3900@117.5, 2400@117.5"

We strongly encourage you to email or fax the relevant W&B pages to us at support@hiltonsoftware.com or 408-521-0455 (fax).




When I run WingX, I get an error message that says "Cannot find 'WingX' (or one of its components). Make sure the path and filename are correct and all the required libraries are available." - How do I fix this?


This means that your Pocket PC is relatively old and does not have Microsoft's .NET Compact Framework installed. Please see the next question (below).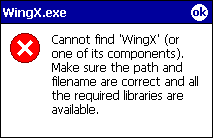 If you receive the error dialog shown above, you will need to download and install the Compact Framework from Microsoft, click here.


Go to the download page and follow the instructions.
Ensure your Pocket PC is docked in the cradle and that Microsoft's ActiveSync 4.5 (or later) is installed and running on your PC. If you are running Vista, then you will need Microsoft's Mobile Device Center instead. Then double click on the WingX-install.exe you downloaded. WingX will be automatically installed on your PDA.



Some features seem to be disabled. Why?


You need to register WingX with Hilton Software. By registering, you will receive a key that will enable the full functionality of WingX. To register, click here.

The key you emailed me doesn't work. Why?


This occurs when the WingX ID we receive from you does not exactly match the WingX ID or the key is being entered incorrectly. For example an "8" might be interpreted as a "B". Try tap on "Download WingX Key..." on the Help, Register page which will automatically download your WingX key via the Internet.

How do I file bugs or request features?


Excellent question! Hilton Software is committed to providing you with bug-free software. email our Support Team or call us at 1-866-42-WINGX. Bug fixes will be made as soon as possible and new versions of the software will be made available on our web site.

Requesting features is very important too. In fact, many of the usability features of WingX come from Beta testing of the product.


The WingX 2.6 User Manual is available on our download page.

WingX is great. When are you going to port it to Palm devices?


We do not have plans for WingX to be ported to Palm devices. We believe that the Pocket PC provides numerous advantages that make WingX significantly more powerful than we could have achieved on the Palm. Additionally, the price point of Pocket PC devices (e.g. Dell's Axim) are at or below Palms. Please take a look at our home page to see some of the features.

If you do purchase a Pocket PC device, we'd love to have you as a WingX user.

I always see "Takeoff CG out of normal envelope." How do I fix this?


Please ensure that you entered the moment in pound.inches and not in thousands of pound.inches. For example, enter 123456 instead of 123.456. If you still get the error message, please email our Support Team and let us know the model, the empty weight, and the empty moment exactly as you entered them and we'll try resolve the issue. However, almost all cases are solved by removing the decimal point in the empty moment entry.

My aircraft model does not appear in the Aircraft Model Database. How do I add it?


Just ask! We will try locate all the required information for your particular model. If we cannot locate all the information, we may need to obtain some information from you about the model. In extreme cases, we may require the aircraft's POH. Please email our Support Team to coordinate getting your aircraft's POH to us. Hilton Software will do their utmost to add your aircraft's data to the database, make it available, and mail your POH back to you with 24-48 hours. Note that while Hilton Software will take the utmost care in handling your POH, we cannot take responsibility for any damage thereof.

The advantage of having Hilton Software be the repository for the model information is that all users will benefit from updates to the model database. Hilton Software does not charge to add model information and the aircraft model database will be available for free.

WingX does allow users to define their own aircraft models. Documentation on how to do this will be available shortly.

The list of supported models appears below.

How often is the aircraft model database updated?


As soon as data is added to the database, the aircraft model database will be made available for download on the web site. To update your database, insert you Pocket PC into its cradle, or connect to the Internet via a wireless card, ethernet card, or modem, and click on Tools, Download, Model Database.
We are proud to donate to (or have donated to) the following causes:
Tsunami Relief Fund
Humane Society Silicon Valley



---
Note: Images on this website may be slightly different to what you see on your handheld device.

Disclaimer: 14 CFR 91.3 says that you, the PIC, are responsible for the safety of the flight. WingX products are intended to assist you in your preflight and inflight activities. While Hilton Software makes every effort to ensure the accuracy of its calculations and data, Hilton Software cannot absolutely guarantee the accuracy. By using WingX products, you agree to hold harmless Hilton Software and those persons acting on its behalf for any and all, but not limited to, liability, bodily injury, and/or property damage arising from the use of WingX products.

Copyright © 2003-2008 Hilton Software LLC All rights reserved.
WingX™, Dynamic Flight Navigator™, and SmartTaxi™ are trademarks of Hilton Software LLC
Microsoft Windows™, .NET™, .NET Framework™, Pocket PC™, and Windows Mobile™ are trademarks of Microsoft Corporation.
BlackBerry™ is a trademark of Research In Motion Inc.
All other trademarks are the property of their respective owners.